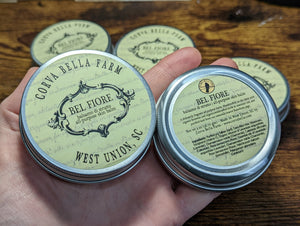 Erbario all-purpose herbal pig tallow skin balm - 2 oz tin
Regular price
$17.00
$0.00
Unit price
per
Note: product photo shows packaging type, will be updated soon to show this exact product variety!
"Erbario" herbal balm, completely handcrafted here on the farm. Slow-rendered and filtered, pure white leaf lard is infused with organic & skin-friendly herbs such as Calendula, Comfrey, Stinging Nettles and Plantain. Organic raw beeswax and Vitamin E are added, as well as organic/wildcrafted essential oils of Cistus, Niaouli, Clary Sage, Palmarosa and Carrot Seed.
This balm has a distinctive herbal fragrance and is pale green in color from the infused herbs. It's meant to be used externally wherever dry, itchy or irritated skin persists. This is the way our ancestors cared for their skin, before plant oils persisted.
Lard, also known as pig tallow, strutto, manteca, or saindoux- is the closest to our skin's own natural sebum.
2 oz net weight in a sleek tin jar with top and bottom labeling.

Ingredients: Purified pig Tallow (lard), Cera Alba Wax (Beeswax), Tocopherol (Vitamin E), Organic Infusion of Plantago major (Plantain), Symphytum officinale (Comfrey), Calendula officinalis (Calendula), Urtica dioica (Stinging Nettles) and Essential oils of Melaleuca quinquenervia (Niaouli), Cistus ladanifer (Cistus), Salvia sclarea (Clary Sage), Cymbopogon martinii (Palmarosa), Daucus carota (Carrot Seed)


* Note, FDA regulations don't allow me to fully describe the benefits that certain herbs and essential oils have. To fully detail them would push a product into the category of being a drug, and not a cosmetic. Unfortunately, this means that you, the customer has to do some research in order to understand the benefits that specific ingredients have on the skin. All balms are for external body and face use, excluding the mucous membranes. Herbs and essential oils have been purported to have various skin beneficial properties throughout history. To detail any more specifics than this is in violation of FDA regulations for cosmetics. Thank you for understanding, and I'm sorry that I'm unable to fully detail the ingredients in my products due to this limitation. As a cosmetic formulator with 25+ years of commercial experience, I strongly adhere to these regulations.

---
Share this Product
---